At what age should my child have their first dental visit?
---
Your child's first visit to the dentist will be an enjoyable experience with our child friendly dentists and staff. Most of the staff of the practice have children of their own and understand how best to treat your child. Most childrens' baby teeth fully develop when they are between two to three years old. It is recommended that they have their first check up during this period. At their first appointment we will count the number of teeth your child has and advise you of their level of oral health – in addition to giving them a ride in the chair and some helium balloons and stickers to take home. We will make their first appointment a pleasant and fun experience. You are always welcome to bring your children along to any of your appointments as a way to help introduce them to the dental practice environment.
---
How often should I have a check-up?
---
The Australian Dental Association (ADA) recommends that you have a checkup every six months. Regular checkups ensure that any problems will be detected early. Early intervention is simpler and cheaper, not to mention more enjoyable, and keeps your teeth and gums healthy.If you are diabetic, a smoker, have gum disease, or any other condition that could make you more vulnerable to developing an oral disease, then you may need to visit the dentist more frequently.We can arrange a reminder for you when you are due for your checkup, so you have one less thing to worry about!
---
How much does it cost?
---
A basic dental check up will cost $78. This includes an assessment of your current level of oral hygiene. If, after the initial dental check up, additional treatment is required then we will advise you of all the costs upfront so that you know what to expect. We assess each patient individually and any further work will be fully discussed with you prior to commencement. We have HICAPs facilities available so that we are able to process your private health insurance rebate on the stop in order to minimise the amount you are required to pay.
---
Why I need X-rays?
---
Sometimes it can be difficult to detect decay by just examining your teeth during a clinical examination – this is because thick enamel can hide problem areas underneath the surface of your teeth. An X-Ray (radiograph) allows us to see the root and body of your teeth so that we are able get a clearer understanding of what the problem is, and therefore ensure that we take the best treatment approach for you. Before we take an X-Ray we will dicuss it with you and we always take all the necessary precautions to ensure your health and comfort while the X-Ray is being taken. We use digital X-Rays to minimise radiation, and for instant transmission if for example you need an opinion from a dental specialist. If you are uncomfortable about the idea of an X-Ray, please don't hesitate to discuss this with your dentist.
---
My dentist has advised a fissure sealant, what is that?
---
Sometimes the grooves, or fissures, in back teeth can be quite deep. This can result in food and bacteria being trapped and leading to tooth decay. If your dentist advises you to have a fissure sealant, this means carefully cleaning and then flowing a sealant material into the grooves of the tooth. This allows you to more easily clean your teeth and better prevent tooth decay. Fissure sealants do not require any anaesthetic. The sealant used is matched to the colour of your teeth and does not harm your teeth in any way.
---
Why are we not a preferred provider?
---
To us there is a very important principle at stake here: treatment decisions need to be made by you, in consultation with the dentist of your choice. We want the best decisions and best treatment for each of our patients. Any insurance to cover the cost of dental treatment, should be chosen to support this process, rather than direct it (as in the case where the dentist is firstly contracted to your health fund). Each of us at HBA Dental looks forward to working with you, our valued patient, to achieve and maintain with you, the very best of dental health.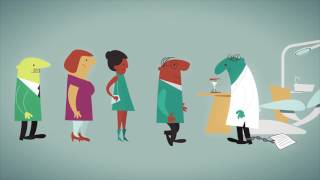 ---
What do you mean by treatment decisions?
---
We are fortunate to live in a modern world which offers options in almost every case for the treatment of any condition. For instance, in the case of a missing tooth, not very long ago, the only way to replace a tooth was with a removable appliance, or perhaps with bridge work. Nowadays we have various types of removable denture, several kinds of bridges, implant supported crowns or bridges, even orthodontics, to solve this kind of problem. How are we to make the right decision among the available options? At HBA Dental, we believe that it is only by gathering all the important facts of the case and then discussing these between the dentist and the patient, that we can come up with a solution which suits each individual patient.
---
---
We've shortlisted a few of our frequently asked questions below. Get in touch if you can't find the answer you're looking for